We have several streaming options on Streamate to make sure you are getting the best cam experience at all times.  We understand that some Streamate members may be using older devices, but that doesn't mean it's the end of the road.
If you find that your cam stream is choppy or lagging, try lowering the quality so that your device can keep up in real time.  Our HD capability is the crème de la crème, but it can be difficult for older devices to keep up.
In choosing between 'HD' or 'High Quality' options, you may find that your device can better support these selections, rather than having a choppy experience.

All you have to do is go to the FEATURES menu, where you'll see the twotop options are HD (BEST QUALITY) and HIGH QUALITY. Simply just choose the option that works best foryour device. When you click on the option, the searches filter out the stream quality that you've chosen.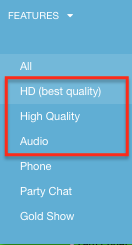 Additionally, you can also select AUDIO in the menu, which will show you performers who have an active audio source and filter out models who may otherwise be silent.
And that's it! Now you'll have the best quality stream for you to enjoy your favorite models on!